Bulk SMS software sends bulk text messages (standard messages as well as notifications) from PC using GSM technology based mobiles. GSM technology based sms sending software broadcast messages all around the world without having any internet connection.
By : www.bulksmssoftware.net

$45

[In stock Order now !]





Category : Bulk SMS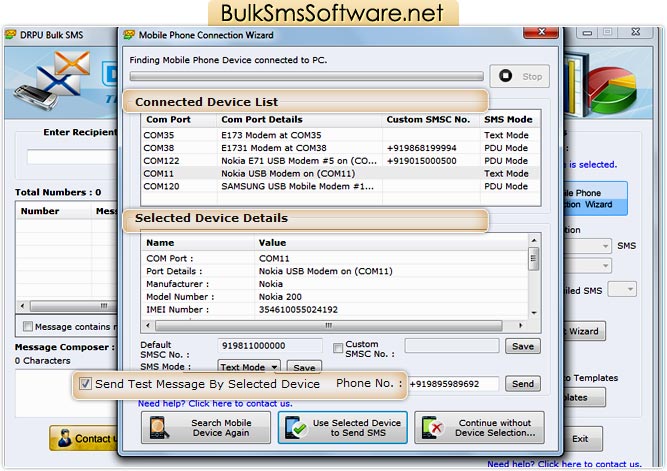 | | |
| --- | --- |
| Wizard shows connected device list, select particular COM port to view corresponding device information including COM Port, Port details, Manufacturer, Model Number etc. | |
Bulk text messaging software will brings benefits to your business!
Increase brand awareness and enhance consumer interaction.
Send your customer your offers and grow your sales.
Provide business product updates to your customers.
Attract new customers and grow consumers' acquisition.
Extend your business marketing research.
Drive clients to your point of sales.
Enhance your sales and attract new customers towards your business.
➭ Software is useful for:-

Media and SEO companies
Training institute
Colleges and universities
MLM companies
Wholesale and retail business
Healthcare industry
Media and entertainment companies.
➭ Why bulk SMS sender software is so significant?
Send bulk numbers of text messages form computer or laptop using GSM mobile phones.
Sends SMS using delay delivery option to control load of bulk SMS broadcasting.
Internet connection is not required for sending bulk SMS with bulk text message software.
Compatible with entire GSM technology based mobile phones.

Allows user to send notifications and standard messages.
Provides option to skip duplicate number entries.
No expert guidance is required to operate the program.
Provides inbuilt list wizard option to maintain the list of phone numbers.
Enables user to load multiple contact numbers from text or excel sheet.
Saves your valuable time and money on mobile marketing.